"Victory Dance"
Saturday November 11, 2017 -- 7 p.m. to 10 p.m.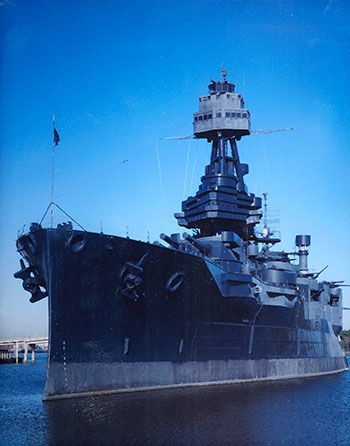 On Saturday, November 11, 2017, the Big Band musical stylings of "The Jazz Connection" will entertain next to the Battleship TEXAS from 7p-10pm. Drinks and snacks will be available for a nominal cost, with free coffee, tea, and water. Special main and upper deck guided tours of the "TEXAS" will be offered free of charge, plus displays by the 6th Cavalry Historical Association. Military uniform or period dress is optional. Admission to the "Victory Dance" will be a $25 donation per person.
The Battleship TEXAS was launched in 1912, six-weeks after the sinking of the Titanic. The Dreadnought was commissioned in 1914 and served in both WWI and WWII. "TEXAS" also participated in the Mediterranean, Atlantic, and Pacific Theatres of WWII, providing bombardment support for the Allied invasion of Normandy on D-Day, and the invasions of Iwo Jima and Okinawa.
The FTV is an organization made up of everyday people with varied skillsets and a common passion to restore "TEXAS" to the way she looked in the final months of World WarII. The Battleship TEXAS is permanently moored adjacent to the San Jacinto Monument, 3523 Independence Parkway, in LaPorte, Texas. Ticket purchases may be made online at www.FirstTexasVolunteers.org.