Pasadena Texas Volunteer Fire Department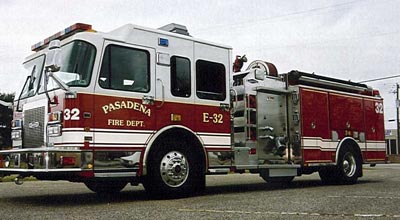 Over 200 active and 50 semi-active volunteer firefighters which respond to approximately 1700 alarms a year within the City of Pasadena. They respond to calls within 60 square miles of the City of Pasadena plus Mutual Aid agreement areas.
(The PFD provides mutual aid fire protection to Ellington Field, Johnson Space Center, and the University of Houston–Clear Lake.
It is also an active member of the Channel Industrial Mutual Aid (CIMA) organization, which is a conglomeration of municipal and industrial fire departments that respond to the numerous petrochemical plants in the region.)

To report a fire, call 911
For non-emergencies call 713-477-1122 (24 hours).
Fire Department Office:
923 Shaw Ave.
Pasadena, TX 77506
Phone: 713-475-5554
Fax: 713-475-5546
Monday thru Friday, 8:00am to 5:00pm
More about the Pasadena Volunteer Fire Department can be found on Wikipedia.