"Hard Hat Tour aboard the Battleship TEXAS"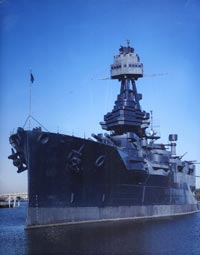 Looking for that unique Christmas gift for that special person who has everything? Well look no more. If they love history and loves historic Naval Ships then we have the perfect gift for you. First Texas Volunteers (FTV) in cooperation with Battleship Texas Foundation (BTF) and Texas Parks & Wildlife Department (TPWD) will host a very special unique guided behind the scenes "Hard Hat Tour" aboard the ship, Saturday, December 15th, 2018. This tour will last approximately (3 ½) hours and participants will be able to see areas of the ship rarely seen by the public. There are (five) tour times to pick from: 8:30am – 9:15am – 10:00am – 12:00pm and 12:45pm. This tour is available via a minimum donation of $50.00 per person.
In conjunction with the "Hard Hat Tour" FTV will also be hosting a "Specialty" Hard Hat Tour focusing on the Normandy invasion of 1944. This tour will take place the same day as the Hard Hat tour at 2:00pm and will last approximately (2 ½) hours. This tour is available via a minimum donation of $30.00 per person.
For anyone wishing to attend either or both of these tour you must be at least 14 years of age and older. Participants need to bring a small pocket flashlight, wear comfortable clothes (you may get a little dirty), good walking shoes for climbing numerous stairs/ladders and a camera if you wish. Hard hats are provided, and water will be available along the tour route during breaks. Promptness is required, as start times are strictly observed. If you can't make the December tour you can still buy your tickets early for the next one on January 19th and wrap them up for the holidays.
Easy, quick and inexpensive and 100% of all monies raised goes to helping us to ensure that the last remaining dreadnought style ship, one of the most important cultural resources of this state, will be here for future generations to enjoy. Please visit www.firsttexsasvolunteers.org for more information.
Barbara Graf
Marketing Specialist - Texas Parks & Wildlife
San Jacinto Battleground/Battleship TEXAS SHS
3523 Independence Parkway South
LaPorte, TX 77571
Phone: 281-479-2431 X234
Fax: 281-479-5618