History of Pasadena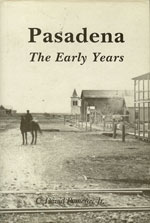 How did Pasadena get its name?
Here is a quote from David Pomeroy's book above on page 30.
"Munger continued to push the Kansas syndicate purchase proposal. He put together a marketing program and a brochure. He named his proposed town, Pasadena, for the town of Pasadena, California. Oddly enough, the village of "Indiana Colony" in California had changed its name to Pasadena about 1875 because the Post Office would not accept the former name. The name PA-SA-DE-NA is a Chippewa (Ojibway) Indian name meaning, "Crown of the Valley." It was stated, that when spoken correctly and as punctuated, the name would "fall pleasantly on the ear." The renamed community promptly experienced a land boom that swelled its population to over 15,000 and began a Tournament of Roses parade in 1890 to emphasize the beauty and productivity of the valley region north of Los Angeles. Although Munger had never been to the town, he had read about its lush vegetation and perfect agriculture climate. This was exactly what he thought about the land in Texas and wanted to convey that same image to others."
Texas Historic Sites of Interest
Eisenhower Birthplace State Historic Site
Sam Rayburn House State Historic Site
Washington-on-the-Brazos State Historic Site
Stories of Texas History by Texas Historical Commission
Texas Revolution 185th Anniversary - The Birthplace of the Republic of Texas